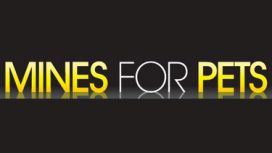 Mines for Pets (UK) Ltd have started to distribute a selection of dog toys from the FAT CAT range. Six toys are now available and all are fun, colourful, innovative and well made. Originating in the US, these FAT CAT dog toys are humorous including a cat, dog raccoon, chipmunk, caterpillar, pig, snake and even a trout design. All the new toys are a good chunky size making for excellent value for money. FAT CAT range is ideally positioned for the Christmas or gift market.
The new FAT CAT dog toys are made from canvass with plush material in one toy. There are 3 'yanking' toys called Classic Incredible Strapping Flip-Flop Yankers which is 15-inches long, Sooper Dooper Flip-Flop Yankers 18-inches long and the Incredible Yankers Trout 14-inches long. The smaller Yanker is sold in either a cartoon dog or cat design and the larger in a raccoon or chipmunk design. These toys held up under nearly 1/2 tonne of serious tugging. So that's a strong toy!
---
Reviews and Ratings
We do not have any reviews about Mines For Pets available right now.