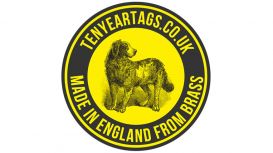 One Guarantee.
You won't have to buy another dog name tag for ten years. Guaranteed. There are minor Ts&Cs, but we will keep your dog safely tagged. For at least ten years. Even if your dog swaps its name tag for food. Guaranteed.
To make your dog name tag strong enough to last for ten years, the brass is 2mm thick, the hole size, position and tooling specified by the UK's leading Spitfire Engineer who restores Spitfires at Old Warden.
One size definitely fits all. 27mm is perfect for dogs of any size. Dogs of all sizes, from Yorkshire Terriers, Pugs and Whippets, to Great Danes and Dogue De Bordeaux are proudly sporting their Ten Year Tags.
Brass has strong antimicrobial properties (it repels germs) It's lovely and shiny out of the box, dulling stylishly and gracefully with age. Perfect dog tag material, as it's not too heavy and engraves deeply.
Reviews and Ratings
I found ten-year tags on a search so new nothing of the extras, arrived today and very very impressed with the quality of the product, customer service and attention to detail, can't recommend enough (although I will certainly try). Thank you from Munchie and us for the beautiful tag.
Brilliant robust-looking tags. Smart in appearance too. Very happy with this product.
Just received our beautiful tag for our GSD Lola through the post. Lovely quality, beautifully packaged. Thank you, we love it. Hopefully, we'll be able to see a little more of it in the summer when Lola is slightly less shaggy!