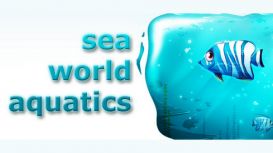 Welcome to Seaworld Aquatics, We are a family run Business and have been established for over 25 years. We are winners of numerous awards including Best selection and most Healthy fish, Best shop in Wales etc in PFK magazine. We have a large variety of dry goods Technical equipment etc and are stockists of major brands including Tetra, Sera, Juwel, TMC, Aquariun, Reef One, Seachem, hikari, Interpet, Hagan, red Sea and other major brands. We have many special offers changing weeklyand are happy to give advice and encouragement no matter what your fishkeeping experience.
We have over 100 tropical tanks 24 marine tanks and 20 coldwater tanks. As you enter Seaworld Aquatics the first room houses our Marine Fish and Invert systems, a large selection of dry goods, filters, heaters, air pumps, live plants, ornaments and books etc. Our last room is where many people start off our Cabinet Room where we stock Juwel, Sera, Tetra, Hagan, Algarde, Biorb and many other aquariums.
---
Reviews and Ratings
We do not have any reviews about Sea World Aquatics available right now.